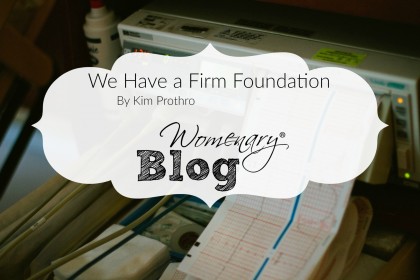 A couple of weeks ago at church we were singing "Jesus, Firm Foundation", a remake of the old hymn "How Firm a Foundation". It is one of my favorites. The chorus goes like this: How firm, our foundation
How sure, our salvation
And we will not be shaken
Jesus, firm foundation
I realize this song is talking about the day we will stand before the throne of God; and the reason we will not be shaken is because our faith is firmly anchored in what Christ has done for us. As I sang it that day however, I could not help thinking about a time, four years ago, when I was shaken and felt like I might fall apart.
It was the first day of school for one of my grandsons. My son-in-law had asked me to come over to his house to stay with his youngest two children so he could walk his son into school and get him settled. It was a big day for everyone because my daughter had home-schooled her four children. This was just one more transition since her death five months earlier.
Shortly after my son-in-law left, my husband contacted me to say our daughter-in-law in Austin was in labor. Their second child was on the way. My husband told me to go on down to Austin and he would meet me there later that afternoon. He had a 1:00 appointment with his chiropractor. When I was about half way to Austin, my husband called and said he was turning around because he didn't feel well. I didn't understand, so I asked him what was wrong. He started clearing his throat and said, "I don't know. Hmmm. I'm having a hard time driving. I think, hmmm, I need, hmmm, to go to the emergency room."
We both got on the phone to friends to see who could help him get to an emergency clinic. Needless to say, it was difficult continuing my trip to Austin with a clear head. And it was almost impossible going back and forth between text messages from my son and phone calls from the doctor— waiting joyfully for the baby to arrive, and anxiously waiting for news as to the condition of my husband. At midnight I found out my husband had had a small stroke. He couldn't see clearly or walk without help, but he was alive. At 2:00 a.m. my son called to tell me a precious little girl had arrived, safe and sound. As I thanked God for our new little grandbaby, I asked God to help me sleep so I could drive home safely the next day. Gratefully, I did sleep.
The next morning, after taking our grandaughter Hadley, to meet her new baby sister, I headed to Tyler to be with my husband. At one point, I got lost in the city of Taylor and had to ask a taxi cab driver the way back to the highway. As I drove out of the gas station where I had met the taxi driver, I began to cry. I soon was crying so hard I couldn't see the road. I asked God to help me stop crying so I could see to drive. Three and half hours later I made it to Tyler, exhausted but grateful to be with my husband.
I hear people say all the time, God doesn't give us more than we can handle. I must say, I respectfully disagree.
Paul, when writing to encourage the Corinthians as they endured suffering, said, We do not want you to be uninformed, brothers and sisters, about the troubles we experienced in the province of Asia, We were under great pressure, far beyond our ability to endure, so that we despaired of life itself. Indeed, we felt we had received the sentence of death. But this happened that we might not rely on ourselves but on God, who raises the dead (2 Corinthians 1:8-9, NIV). That day I felt the same way. I felt like I was being stretched beyond my ability to endure.
I think the verse people are thinking of is 1 Corinthians 10:13, which the NRSV translates: No testing has overtaken you that is not common to everyone. God is faithful, and he will not let you be tested beyond your strength, but with the testing he will also provide the way out so that you may be able to endure it. It certainly looks like Paul is saying God will not give you more than you can handle; but the key is context.
Paul had been talking to the Corinthians about how to live the Christian life, free of divisions and free of idolatry. In chapter 10 he used Israel as an example, showing how God was not pleased with Israel in the wilderness. He tells the Corinthians they must not indulge in sexual immorality as some of [the Israelites] did…[or] put Christ to the test, as some of them did… nor grumble, as some of them did. He goes on to say, these things were written down for our instruction, and then he tells them to remember: No temptation has overtaken you that is not common to man. God is faithful, and he will not let you be tempted beyond your ability, but with the temptation he will also provide the way of escape, that you may be able to endure it. Therefore, my beloved, flee from idolatry (v.6-14, ESV).
There is a big difference between testing and temptation. Interestingly, the word in 1 Corinthians can be translated either way: 1)"an attempt to learn the nature or character of something, test, trial"; or 2)"an attempt to make one do something, enticement, temptation." In 1 Corinthians both things were going on, as in the wilderness. There the Israelites' character was certainly being tested; but the Israelites were also allowing themselves to be enticed—they were testing God. The Bible Knowledge Commentary says the Corinthians "were not looking for a way out…they wanted a way in for indulgence."
The verse in 2 Corinthians, however; uses a completely different word for trial. This word refers to "trouble that inflicts distress"; and can be translated: "oppression, affliction, tribulation… [it is] distress that is brought about by outward circumstances."
Do you see the difference? In one instance God is the one being tested. The way of escape is trusting God, rather than trusting in the world and what its false gods have to offer. The other kind of testing occurs when outward circumstances cause us to have to rely on God to make it through. Our faith is purified as we endure the fiery furnace of affliction. It is during trials like this that we realize God is not going to provide a way out, but be present with us as we go through the trial.
As Job said, "[God] knows the way that I take; when he has tried me, I shall come out as gold" (Job 23:10, ESV). Job went on to say, "God has made my heart faint; the Almighty has terrified me; yet I am not silenced because of the darkness, nor because thick darkness covers my face" (v.16-17). Job was talking about a terrifying trial God had allowed in his life, but he did not grow silent in the darkness. He talked to God even though he couldn't see God, or where God was in the trial.
It is during the darkest times in our lives that Job's story and the Psalms can encourage us. Then we cry out to God, pouring out our hearts to Him in lament, being honest, as Christ was when He cried out from the cross, "My God, my God, why have you forsaken me?" (from Psalm 22:1, ESV). During the darkest trials we can cling to what we know without denying what we feel, allowing God to be our refuge.
The day this truth dawned on me I was singing in church about God's salvation, and I realized I had been waiting for God to rescue me from my grief like he had rescued me from my sin. It suddenly hit me: God had not promised to rescue me from my trial; instead He had promised to walk through the valley with me. I was grateful and overwhelmed all at the same time. I desperately wanted relief from the pain; but I accepted the fact that God intended I trust Him in the darkness, and be content that He was with me.
As I sang "Jesus, Firm Foundation", remembering the time when my life was shaken to its core, the picture that came to my mind was of me laying on the foundation of the apostles and the prophets of which Christ was the cornerstone. And that foundation turned out to be the hand of God which closed around me. I was safe and sound resting in His love. It was a beautiful picture.
So when you find yourself in a situation or season of life where you are being shaken to the core, remember it is the loving hand of God that has allowed this trial. You can trust that God is present with you, even if you don't feel His presence. And you can rest in the knowledge that you are held in the palm of His loving hand.
---
Kim Prothro

Kim was born in Colorado Springs, and as a result loves the mountains and the outdoors. She grew up in Jefferson, Tx, where she grew to love architecture and history. Kim graduated from Robert E Lee in Tyler,TX, and married her high school sweetheart after graduating from the University of Texas in Austin with a BBA in Finance. Kim fell in love with Jesus and studying God's word in the eighth grade. That eventually lead to a dream of attending seminary which she did after her children were grown and they had an empty nest. She graduated from Dallas Theological Seminary in 2013 with a Masters in Theology. Kim was part of the original group of women who founded Womenary in 2008. It has a special place in her heart. Womenary is very proud to have her as a Professor and can be contacted at kim.prothro@gmail.com.