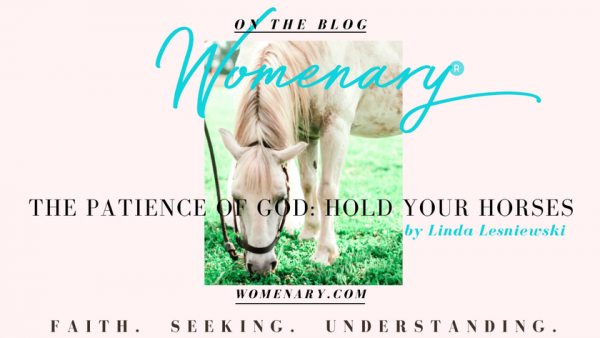 "Hold your horses!" Though I did not understand the phrase, I did know Mother intended me to settle-down-and-be-patient. I still struggle with patience, but God does not. It is part of His essence as well as His Son's and His Holy Spirit's.
The Father
The God of the Old Testament proclaimed His name and described His essence when He spoke to Moses on Mt Sinai: Then the LORD came down in the cloud and stood there with him and proclaimed His name, the LORD. And He passed in front of Moses, proclaiming, "The LORD, the LORD, the compassionate and gracious God, slow to anger, abounding in love and faithfulness" (Exodus 34:5-6, NIV). These qualities set God apart from the false gods of the Egyptians. Moses surely marveled at this description, as I do now.
David described his heavenly Father in his lament as a compassionate and gracious God, slow to anger, abounding in love and faithfulness (Psalm 86:15, NIV). He surely relied upon those qualities as he approached God in prayer. Imagine David falling prostrate, beseeching: Listen, LORD, and answer me, for I am poor and needy. Protect my life, for I am faithful. You are my God; save your servant who trusts in you (Psalm 86:1-2, CSB). I have been there, prostrate before God. Have you? We can rest in confidence that He will respond to us with patience, compassion, love, and faithfulness.
The Son
The apostle Paul had experienced the LORD's divine patience and acknowledged it in his letter to Timothy: I was shown mercy so that in me, the worst of sinners, Christ Jesus might display his immense patience as an example for those who would believe in him and receive eternal life (1 Timothy 1:16, NIV). That was a profoundly insightful thought—accepting that Jesus was using your life of self-righteousness and cruelty-to-Christ-followers to display His immense patience. I can lean into that same incredible patience today. If Jesus could patiently await Paul's conversion while His own children were being persecuted, He will also patiently accomplish His work within my own heart.
The Holy Spirit
Paul also writes that this same God of the Old Testament and Jesus Christ of the New Testament now live in us through the indwelling presence of the Holy Spirit: Don't you know that you yourselves are God's temple and that God's Spirit dwells in your midst? (1 Corinthians 3:16, NIV). How amazing, joyful, sobering! This awareness challenges me to grow in my understanding of how God wants to live out this quality through me.
Both the Old Testament Hebrew and the New Testament Greek expand the meaning of the English word patience to include: slow to anger; long-suffering; forbearance, having long patience, steadfastness, perseverance; slowness in avenging wrongs.*
I thought I had matured beyond that impatient 5-year-old, but just last night I struggled with sleep because of an impatient heart. I awoke with the same angst. Confronted with examples and a clearer understanding of patience, I am challenged to grow beyond my adult version of holding-my-horses—biting my tongue and deep breathing.
God's patience is a fruit of the Holy Spirit in my life that can provide an inner peace and the ability to persevere while facing challenges. The forbearing qualities of the Holy Spirit within can allow me to let go of things that are out of my control. I am also empowered to evaluate situations beyond their face value—when I take time to pray and seek God's wisdom.
This recent event challenges me to agree with Paul when he wrote: Not that I have already attained, or am already perfected; but I press on, that I may lay hold of that for which Christ Jesus has also laid hold of me (Philippians 3:12, NKJV).
Father, remind me of these truths when I forget. Empower me when I ask. Be glorified through each occasion. And when my heart begs You to hurry back, prompt me that You are patiently awaiting the fullness of time.
*Blue Letter Bible
---
Linda Lesniewski

Linda served as Women's Minister at Green Acres Baptist Church in Tyler, TX for 24 years. She has authored "A Little Book About Knowing a Big God" for children; "Women at the Cross" and "Connecting Women: A Guide for Leaders in Women's Ministry", by Revell; as well as "His Story My Story", a digital download available from LifeWay. Linda enjoys spending time with her four young adult children and six granddaughters. She has served on the Womenary Board of Directors for many years. You can contact Linda at lindalesniewski49@gmail.com.