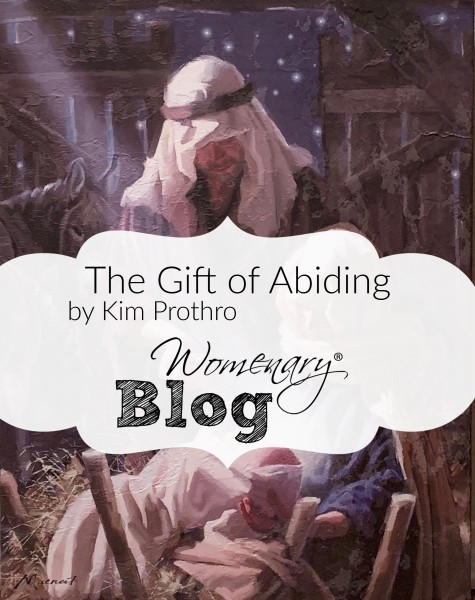 It's 15 days until Christmas. How are you doing? Do you need a break, a massage, some down time? During the holidays so many things come at us at once. There are parties to prepare for and attend, presents to buy and wrap, stockings to stuff, meals to plan, trips to go on. And sometimes crisis, loss, and life changes erupt in the middle of all the hustle and bustle.
Christmas is the interruption in the midst of life. I think Mary would understand my saying that. God certainly interrupted her life that first Christmas when she found out she was going to be the mother of God's son. Joseph felt more than a little anxious as he tried to figure out what to do when Mary originally shared the news with him. But God had a plan and they were to be part of it. He had a gift He wanted to give the world, and they were to be instrumental in bringing that gift to all of us.
John 1:14 (ESV) says, And the Word became flesh and dwelt among us. The Greek word here for dwelt is σκηνή, which means a temporary residence. Some Bibles translate the word tabernacled because it "alludes to the Old Testament tabernacle, where the Shekinah, the visible glory of God's presence, resided." The note in the NET Bible says John "is suggesting that this glory can now be seen in Jesus. The verb used here may imply that the Shekinah glory that once was found in the tabernacle has taken up residence in the person of Jesus." The footnote goes on to say this verse is the "most concise statement of the incarnation in the New Testament."
The other day I was shopping in Hobby Lobby. I had been contemplating redoing my mantle decorations and was looking for ideas. I turned the corner to go past the Christmas tree aisle and saw a colorful little tree with pine cones, red berries, and crystalized snow on it. I thought it might be pretty on my front porch; then something else caught my eye. It was a large canvas painting of Mary, Joseph, and baby Jesus. The colors in the background were dark, but their head coverings and Jesus' swaddling cloth shone brightly. Stars twinkled in the dark sky and a ray of light filtered gently down from the upper corner over Joseph's shoulder and into Mary's lap where Jesus lay. I was captivated as I beheld the three human beings before me. It now sits on my mantle with a single candle beside it, to remind me that Jesus, Mary, and Joseph were real people—not just words in a book or a story passed down to us from the Bible.
Jesus, the eternal God, became flesh. He took up residence here on earth. But, why? Why did Jesus come to earth and "put on flesh"? John 1:18 says, to make the Father known. Jesus came to earth to show the world the love of the Father. He showed the full extent of His love by obeying the Father and dying on the cross to pay the price for our sins (Philippians 2:8). However, the Father's love and Christ's death go beyond forgiveness. His forgiveness provides the way for us to have a loving, lasting relationship with Him. Jesus came to give us the gift of relationship.
Lately I have been reading and praying my way through John 15, pondering what it means to abide in Christ. The word abide means to stay, live, dwell, or remain. When I turned to the Theological Dictionary of the New Testament, I discovered that in both the Old and New Testaments the word points to the eternality and immutability of God, "as distinct from the mutability and transitoriness of everything earthly and human. God is characterized by the fact that He endures."
The phrase to remain orabide is used throughout the Bible when speaking of the immutability of God and the things of God: e.g., His counsel, which cannot be changed (Romans 9:11); His word, which abides forever, (Isaiah 40:8; 1 Peter 1:24); faith, hope, and love which abide or remain (1 Corinthians 13:13). The word abide,or remain, is also used when talking about the Spirit which remainedon Christ at His baptism (John 1:32). After reading this I suddenly realized, we have an abiding, eternal relationship with the eternal, triune God.
John said in his first epistle:
By this we know that we abide in him and he in us, because he has given us of his Spirit. And we have seen and testify that the Father has sent his Son to be the Savior of the world. Whoever confesses that Jesus is the Son of God, God abides in him, and he in God. So we have come to know and to believe the love that God has for us. God is love and whoever abides in love abides in God, and God abides in him
—1 John 4:13-16, ESV
These verses, for me, seem to bring it all together—the love of the Father, why Christ came, the relationship we have with the triune God, and what it means to abide. The longer I dwell on the concept of abiding, the more I see it as a gift from God rather than something we do. Abiding is the privilege we have as believers. Just as we came to God, drawn by the Spirit through faith in the Son, so we abide by faith in God and Christ by the power of the Spirit. He dwells in us and we are in Him. He remains in us and we remain in Him. It is an eternal relationship with the Trinity—Father, Son, and Holy Spirit.
Picture abiding as a gift. The bow that surrounds the package is the Father's eternal love. It is a huge, lavish, extravagant bow. It almost overshadows the package. Christ is the wrapping paper. It is plain and simple—pure white. As you unwrap the package, one corner at a time, let it remind you of how He laid down His life for you in obedience to His Father. Contemplate all that He suffered to be your Savior. Now, for the surprise. The box is you, and what is inside you is the presence of the Holy Spirit. He is your Comforter, your Helper, your Encourager, your Strength. He is continually with you, wherever you go. You are never without what you need.
You can rejoice in the fact that you are only an empty box—weak and fragile, torn at times—but you can say along with Paul: I will boast all the more gladly of my weakness, so that the power of Christ may rest upon me(2 Corinthians 12:9, ESV).
As I lay in bed early one morning, frustrated with my first draft of this blog, I realized I was anxious because I wanted to "get it right". It just wasn't coming together the way I wanted it to. So I stopped and prayed and asked God to show me what He wanted me to do: Let it go? Pass it on to someone else? Start over? Go a different direction?
I let the peace and quiet remain. I felt His peace. I thanked God for the truth of His love, the gift of His Son, and the power of His presence. Then I realized, that's it! That is the gift of Christmas. That is the gift we have been given. As we lean into the reality of the relationship we have with the eternal triune God, He reveals Himself to us through the power of His presence in our lives.
Matthew 1:28, ESV:"Behold, the virgin shall conceive and bear a son, and they shall call his name Immanuel" (which means, God with us).
I pray that this Christmas you will be blessed in unexpected ways as you celebrate the gift of God's Son, given to us that we might be able to abide in Him and know that He is with us always, even to the end of the age (Matthew 28:20).
---
Kim Prothro

Kim was born in Colorado Springs, and as a result loves the mountains and the outdoors. She grew up in Jefferson, Tx, where she grew to love architecture and history. Kim graduated from Robert E Lee in Tyler,TX, and married her high school sweetheart after graduating from the University of Texas in Austin with a BBA in Finance. Kim fell in love with Jesus and studying God's word in the eighth grade. That eventually lead to a dream of attending seminary which she did after her children were grown and they had an empty nest. She graduated from Dallas Theological Seminary in 2013 with a Masters in Theology. Kim was part of the original group of women who founded Womenary in 2008. It has a special place in her heart. Womenary is very proud to have her as a Professor and can be contacted at kim.prothro@gmail.com.