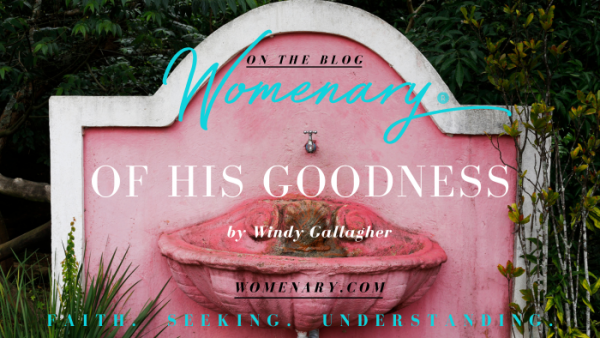 Several years ago, I purchased a concrete vintage fountain at an outdoor flea market. I bought it for $35 dollars, a steal if you ask me! I got it working with some new plastic tubing, a miniature solar panel and an eensy-weensy motor.
The old yellow fountain, with a simple carved rose at its base, is my most favorite thing in the garden. Often you can find me on the porch at sunrise, listening to the calming sound of running water while watching the sky turn a brilliant combination of pink and orange. These stolen moments in God's creation generate in me a deep sense of gratitude for His goodness.
And it's easy for me to trust that God is good in my garden, where the birds dance expectantly and the wild blooms reach for the sky in full-on praise. The garden grows because God makes seeds sprout, the sun to shine and the sky to drop buckets of nourishing rain.
I see redemption
Growing in the trees
The death and resurrection
In every single seed
—Kari Jobe, The Garden
Today is an occasion to trust God is good, to believe all things work together for good, and to respond to the Good News of what God has done to reconcile man to Himself—Christ's death on the Cross being the supreme expression of His goodness.
God is Good
Psalm 33, Colossians 1, Hebrews 1
As there is reason for fresh praise, a new song rises in the hearts of those He has chosen as His own inheritance. This impulse to sing proceeds from His Word in which His work is rightly done in the heavens and on the earth.
I overlook more mercies than I can count.
Do I often contemplate the Son of God sustaining everything?
He is before all things and by Him all things are held together.
All that can be studied can be examined by its distinctive properties that remain constant.
Do I imagine how the grass grows, the sun rises and the rain waters quench a dry and thirsty land.
If His hand were to lift, nothing would survive.
Only God would be left.
Yet, I wake arrogantly, indifferent to His care.
Evidence surrounds me and I ask for more proof.
The earth is full of the goodness of the Lord.
I am dismayed when I forget that He is my God,
Forgetfulness always welcomes fear.
Every morning, His mercies are new, when I remember them again.
All Things Work Together for Good
Genesis 45:7-8, 50:15-21; Deuteronomy 8:11, 15-16; Job 1:20-22, Isaiah 46:9,10, Romans 8:28
God's sovereign goodness pours forth into every moment of this life. If I were to thank Him for every working of grace throughout a single day, I would have no time for a single complaint.
He is working all things together for the good of those who love Him. John MacArthur (MacArthur Study Bible) notes, "The best manuscript evidence records this verse as, we know that God causes all things…good. God orchestrates every event in life – even suffering, temptations and sin – to accomplish both our temporal and eternal benefit."
We see this throughout Scripture. What is meant for evil, God superintends for good, leaving us to claim as Job rightfully did:
"Naked I came from my mother's womb,
And naked shall I return there.
The LORD gave, and the LORD has taken away;
Blessed be the name of the LORD."
In all this Job did not sin nor charge God with wrong.
Moses' warned the Israelites: "Do not forget the LORD your God…who led you through that great and terrible wilderness, in which were fiery serpents and scorpions and thirsty land where there was no water; who brought water for you out of the flinty rock; who fed you in the wilderness with manna which your fathers did not know, that He might humble you and that He might test you, to do you good in the end—"
In Genesis, Scripture tells us that Joseph answered his brothers' wicked behavior towards him by stating: "As for you, you meant evil against me; but God meant it for good, in order to bring it about as it is this day, to save many people."
Joseph shared a revelation with his brothers. He acknowledged their hatred that left him for dead and resulted in him being sold into slavery only to conclude: "God sent me before you to preserve a posterity for you in the earth, and to save your lives by a great deliverance. So now it was not you who send me here, but God."
Yes, but God.
When I suffer, I can quickly move towards blame or complaint rather than trust. My thoughts assert, "Why is this happening, here?" But "here" is an occasion to believe that God is sovereign and good: that all things work together for good of those who love God, to those who are the called according to His purpose.
Joseph said to his brothers, "Do not be afraid, for am I in the place of God?"
"I am God, and there is none like Me,
Declaring the end from the beginning,
And from ancient times things that are not yet done,
Saying, 'My counsel shall stand,
And I will do all My pleasure.'"
The Good News
Isaiah 53:5-6; Mark 2:15-17; Luke 15, 19:10; Acts 17:16-31; Romans 5:8; 1 Timothy 2:5; Hebrews 13:14; Revelation 22:21
Why would the Good Shephard leave the sheep fold to find one lost sheep? And so happy He is to find it! He is more pleased with the solitary sheep that was lost than with the ninety-nine that stayed "perfectly" put.
"And when he has found it, he lays it on his shoulders, rejoicing. And when he comes home, he calls together his friends and neighbors, saying to them, 'Rejoice with me, for I have found my sheep which was lost!'"
What makes the Father's heart ache for the missing?
Jesus dined with many tax collectors and sinners. "How is it that He eats and drinks with ('these' people)?" say the self-righteous. Jesus, hearing them, answers, "Those who are well have no need of a physician, but those who are sick. I did not come to call the righteous, but sinners, to repentance."
What makes the Father's heart ache for the sick?
Jesus proclaims, "The Son of Man came to seek and to save that which was lost."
But He was wounded for our transgressions, He was bruised for our iniquities; the chastisement for our peace was upon Him, and by His stripes we are healed. All we like sheep have gone astray; We have turned, every one, to his own way; And the LORD has laid on Him the iniquity of us all.
God's goodness runs after us, like the prodigal son who had carelessly spent his inheritance on a far country life, burdened by sin and despair. The lost son, still a long way off, sees the father sprinting towards him with strong, open arms. What a beautiful walk back to the house together that must have been…
And so, the Christian is on a pilgrimage to the new Jerusalem: For here we have no continuing city, but we seek the one to come. Matthew Henry (Christianity.com) concludes, "…and therefore we should go forth now by faith, and seek in Christ the rest and settlement which this world cannot afford us."
The Philosophers in Athens summoned the Apostle Paul to the Areopagus to defend what he was teaching. They called him a "babbler"—an amateur philosopher. Paul proclaimed God, "who made the world and everything in it, since He is Lord of heaven and earth…He gives to all life, breath, and all things."
In His goodness He made us.
God demonstrates His own love toward us, in that while we were still sinners, Christ died for us. What sin had grossly separated God and man, Christ has reconciled through His death. With His life He sustains our reconciliation through the power of His righteousness freely given to us at salvation.
In His goodness He loves us.
Only the Good Shephard has the power to keep His sheep safe, to speak words that pierce through all other voices of this world and prick the ears of those who long to stay in the safety of His shadow. We, who have been saved by Grace, cleave to His goodness with true longing and understanding because we know that we have been given eternal life and can never be snatched out of His strong right hand.
In His goodness He keeps us.
God's goodness waters the dry soil of my soul. The One who paints the sky with colors we have no efficient description for, has found me lost and given me life. His goodness reaches the darkest corners of the world and the desperate places of my own heart. The Good News of what our Good God has done to rescue His people is heralded "in the beginning" of Genesis through the last full sentence in Revelation.
The grace of our Lord Jesus Christ be with you all. Amen.
All Scripture quotations are from the New King James Version.
---
Windy Gallagher

Windy Gallagher lives in Tyler, Texas where she is a thankful wife to her college sweetheart, and a mother of two brave and handsome boys. Windy has been a Womenary student for many years and is a member of the Womenary board. Her passion for the Lord is often expressed through her writing about the real struggles of life and the practical and profound ways God uses them to bring victory and freedom in her life. Join her on Facebook or twitter @windybecca