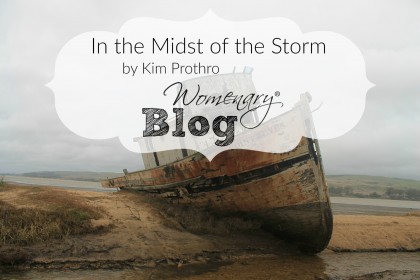 There's a story in Mark 4 which many of us are familiar with. Jesus had been teaching His disciples, talking to the crowds, and telling parables to help them understand the kingdom of God. At the end of the day, when evening had come, He said to His disciples, "Let us go across to the other side of the lake" (Mark 4:35, ESV). After they began to go to the other side, a great storm arose on the lake and the waves were breaking into the boat. The boat began to fill with water, and the disciples were terrified they might drown. Jesus was asleep on a cushion in the stern. The disciples woke Jesus up and asked him, "Teacher, don't you care that we are perishing?" (Mark 4:38, ESV). Jesus got up and stilled the storm.
I love how the NET Bible translates His response: So, [Jesus] got up and rebuked the wind, and said to the sea, "Be quiet! Calm down!" Then the wind stopped, and it was dead calm (Mark 4:39). The textual note on rebuked says this word in the Greek means "'to command' (often with the implication of a threat)." Jesus questions the disciples about their fear and their lack of faith, which doesn't even seem to faze them. Instead of responding, they ask a second question: "Who then is this, that even the wind and sea obey him?" (Mark 4:40, ESV).
I was reading this story the other day and saw it from a completely different angle. Previously I had focused on Jesus' question to the disciples. This time I saw the storm and the disciples' questions as absolutely what we do when we are caught in the middle of a terrifying, life-threatening tempest. Maybe you've been there. Things were just fine. You were rocking along; then suddenly life turned upside down. You think you are going under and you want to know why in the world Jesus is asleep. Doesn't He care that you are about to perish!
We are believers, and filled with the Holy Spirit; so Jesus is always with us—right? Absolutely. But that doesn't mean Jesus is doing what we wish He would do. We want Him to do what He did for the disciples—still the storm. But many times the cancer doesn't go away, the one we love dies, the job goes to someone else. We aren't rescued. We are left with the boat filling up; and we want to scream out and ask Jesus, "What are you doing? Why didn't you come through for me? Why are you sleeping? Why have you left me here to fend for myself?"
Maybe you don't allow yourself to think those things or say them aloud in a prayer. Maybe you just shut down and figure Jesus is asking you, Where is your faith? I'm right here in the boat with you. Calm down. The truth is, our questions are valid. They are normal. That is how we respond when life goes completely haywire, and Jesus knows it.
As we pick ourselves back up and move forward, we try to make sense out of things. That is when the second question comes into focus. At some point, if we allow ourselves to be honest, we will begin to ask ourselves, "Who is this God I worship anyway? He calmed the sea in the Bible and stilled the storm for the disciples, but my life is still falling apart and I don't understand." Before we blame ourselves that our faith is too small we need to remember, Jesus is the same today as He was then. He can take our hard, even demanding questions, because He understands suffering and desires to reveal Himself to us.
I pondered why Jesus questioned the disciples for their fear and lack of faith. After reading it through several times I thought it might be something we can't see in the English translation. When Jesus says, "Let us go across to the other side", He is giving them a command. This is what is called a hortatory statement. Jesus is saying, Hey, get in the boat. We are going to the other side. So when the storm comes and they are afraid they are going to drown, He is in effect saying, Didn't I say we were going to the other side? Nothing will stop us from getting there. Then He speaks sternly, threatening the wind to be still, and they go to the other side.
This story encourages me on several levels:
Our questions in the midst of the storm are normal responses to terrifying, life- threatening events.
We will get to the other side.
Jesus will confront our faith; but He is compassionate and merciful.
God's purposes are always accomplished.
He is God and I am not.
When we find ourselves in the middle of a whirlwind we can be honest with God. Fear, anger, and doubt are normal responses. If we are honest, patient, and reverent in our response to Jesus and the storm, God will reveal Himself to us; and I think we might be surprised at what we find on the other side. When Jesus and the disciples got to the other side a man, who had been tormented for years, ran to meet Jesus. He was suffering and isolated, and Jesus had compassion on him and healed him.
Paul tells us we will be able to comfort others with the comfort we have received from the Lord:
Blessed be the God and Father of our Lord Jesus Christ, the Father
of mercies and God of all comfort, who comforts us in all our affliction,
so that we may be able to comfort those who are in any affliction,
with the comfort with which we ourselves are comforted by God.
For as we share abundantly in Christ's sufferings, so through Christ
we share abundantly in comfort too. (2 Cor 1:3-5, ESV)
I have been working at Terrell State Hospital as a chaplain for the past five months, helping those who struggle with mental illness. One thing that has amazed me is how others are drawn to us when we have compassion. Just like the man who ran to meet Jesus, I have had many approach me, some even run to me, desiring to talk and have someone listen and care about their pain and their struggle.
God showed me compassion when I was in a very dark place, feeling isolated as I struggled with grief and depression and so many emotions that tormented me day and night. I am grateful God has given me a heart that desires to show compassion to others who struggle with hard questions and fear, and feel alone. I cannot still the storm in their lives; but I can listen, and empathize, and give them the space to share their honest feelings and know that God understands everything about where they find themselves. It has been a privilege to be there in their suffering.
---
Kim Prothro

Kim was born in Colorado Springs, and as a result loves the mountains and the outdoors. She grew up in Jefferson, Tx, where she grew to love architecture and history. Kim graduated from Robert E Lee in Tyler,TX, and married her high school sweetheart after graduating from the University of Texas in Austin with a BBA in Finance. Kim fell in love with Jesus and studying God's word in the eighth grade. That eventually lead to a dream of attending seminary which she did after her children were grown and they had an empty nest. She graduated from Dallas Theological Seminary in 2013 with a Masters in Theology. Kim was part of the original group of women who founded Womenary in 2008. It has a special place in her heart. Womenary is very proud to have her as a Professor and can be contacted at kim.prothro@gmail.com.