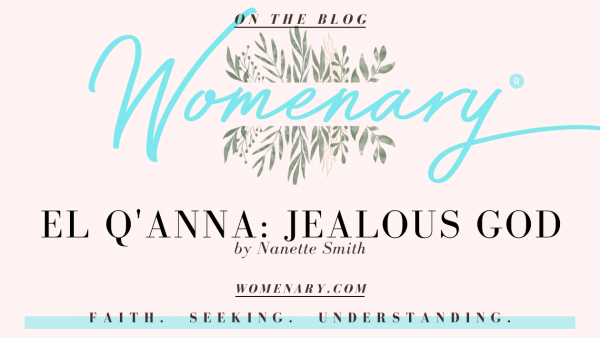 Jealousy. Shakespeare calls jealousy the "green-eyed monster".
James 3:16: For where jealousy and selfish ambition exist, there is disorder and every evil thing (NASB).
Charles Spurgeon said: "Self-love is, no doubt, the usual foundation of human jealousy...the fear lest another should by any means supplant us."
In Exodus 20:5 the LORD (YHWH—the eternally existent God) declares that He is a jealous God.
Wait! What? God is jealous? Let's look a little deeper into this.
The Hebrew word for jealous, q'anna, is found for the first time in the Bible in Exodus 20:5. It is an adjective that is part of a word group that can be translated"jealous, zealous, or envious". According to the Complete Word Study Old Testament Dictionary, it is used to describe the character of God and His attitude toward the worship of false gods, which results in His jealousy and anger against idol worshipers. It is so closely associated with God's character that in Exodus 34:14, He gives Himself the name "Jealous".
One of the ways God has chosen to reveal Himself is through His own words, Spirit-breathed into men and preserved as a written record—the Bible. Many times throughout the Bible God is described using words and ideas based on our human lives, known as anthropomorphism: communicating Himself to us in ways that we can most easily understand (i.e., the hand of God, the face of God, God's laughter). However, we know that God is not limited by creature-hood, because he is Elohim, the God of Creation. Furthermore, creation lives in a state of corruption because of sin; God does not.
When we consider wrath we may think of an angry reaction that we have experienced, likely rooted in selfishness and pride—a sign of weakness. But when God displays wrath it is His Holy response to evil and it is morally right and glorious, a sign of righteousness.
Jealousy usually manifests itself in people in two ways. According to JI Packer in his book Knowing God, the first way is "I want what you've got, and I hate you because I haven't got it." According to Packer this comes from "unmortified covetousness", sin that has not been put to death and expresses itself in envy, malice, and meanness. Proverbs 27:4 tells us that not even wrath or anger can stand before this type of jealousy.
But there is also jealousy, perhaps better named zeal, that desires to protect a love relationship and to avenge it if it is broken. This is the "fruit of marital affection", says Packer. A husband rightly motivated by this covenantal love jealously guards his wife and their relationship, protecting and seeking her well-being at all times.
In Numbers 5:11-31 we see it as the "spirit of jealousy" concerning the marriage covenant that positively reflects understanding of the importance of the relationship.
Marriage is meant to represent God's relationship with Israel (the Mosaic Covenant), and Christ's relationship to his Bride, the church (the New Covenant). Keeping in mind that we are using "creature" words and ideas to describe the Creator, we can understand God as being jealous or zealous for His people as a man is for his bride.
Wycliffe's Dictionary of Theology defines jealousy as "an emotion inspired by the infringing or denial of the right of possession". Within the framework of the Mosaic Covenant, the Ten Commandments affirm God's rights over His people. God's desire to keep His people to Himself, not sharing them with idols or anything else, shows us the perfect motive behind His jealousy. God seeks His glory in and through man, and for that He is jealous. His jealousy is as much a part of His holiness and righteousness as His love for His people.
The Evangelical Dictionary of Theology defines zeal (jealousy) as a single-minded devotion that when turned inward creates hatred and envy for others. Consider the before-mentioned husband (or wife) whose jealousy toward their marriage is motivated by something other than love (i.e., greed, control, power). The selfish motives of that type of jealousy would bring negative and harmful effects to the marriage. But such is not the motive of our God. Motivated by love, righteousness, and justice, He is not jealous "of" but rather "for". And that produces an intense zeal that leads to total selflessness, epitomized in the sacrifice of His Son, Jesus Christ.
John Piper, in Future Grace says "He [God] is jealous for the world to see that he has no deficiencies which we humans could supply with our works or our distinctions."
In Ezekiel 39:25, as God is restoring Israel He reminds them: "I will be jealous for My holy name" (NASB). He desires to display and preserve His nature and character both for our good and His glory. And so we honor El Q'anna, the Jealous God.
C.H. Spurgeon said, "Let it be remembered then, that jealousy, like anger, is not evil in itself, or it could never be ascribed to God; his jealousy is ever a pure and holy flame."
For further study on the nature and character of God, read: The Knowledge of the Holy by AW Tozer, and Knowing God by JI Packer.
---
Nanette Smith

A transplanted Texan, Nanette Smith spent most of her life in western Pennsylvania where she and her husband Tom raised their 6 children. When not homeschooling her children or helping her husband run his construction business, Nanette volunteered with Samaritan's purse, crisis pregnancy centers, and served as Women's Ministry Director. In 2013 God moved Nanette and her family to Texas and she attended her first Womenary class in 2016. Currently Nanette works as the Missions Coordinator at Mobberly Baptist Church in Longview, TX. When not working or playing with one of her 11 grandchildren, Nanette enjoys reading, writing, photography and baking.